How to attach a volume and migrate Sen4CAP products on CREODIAS
Sen4CAP may need a lot more space than was initially planned. The easiest way to extend space for Sen4CAP applications is to attach the additional volume.
Prerequisites
No 1. Account
You need a CREODIAS hosting account with access to the Horizon interface: https://horizon.cloudferro.com.
No. 2 Sen4CAP already created
If you need to create a new VM for Sen4CAP, this article will be of help: How to access Sen4CAP.
Create a volume
First, create a volume. In OpenStack Dashboard go to Project → Volumes → Volumes and select Create Volume.

Name your new volume and provide a size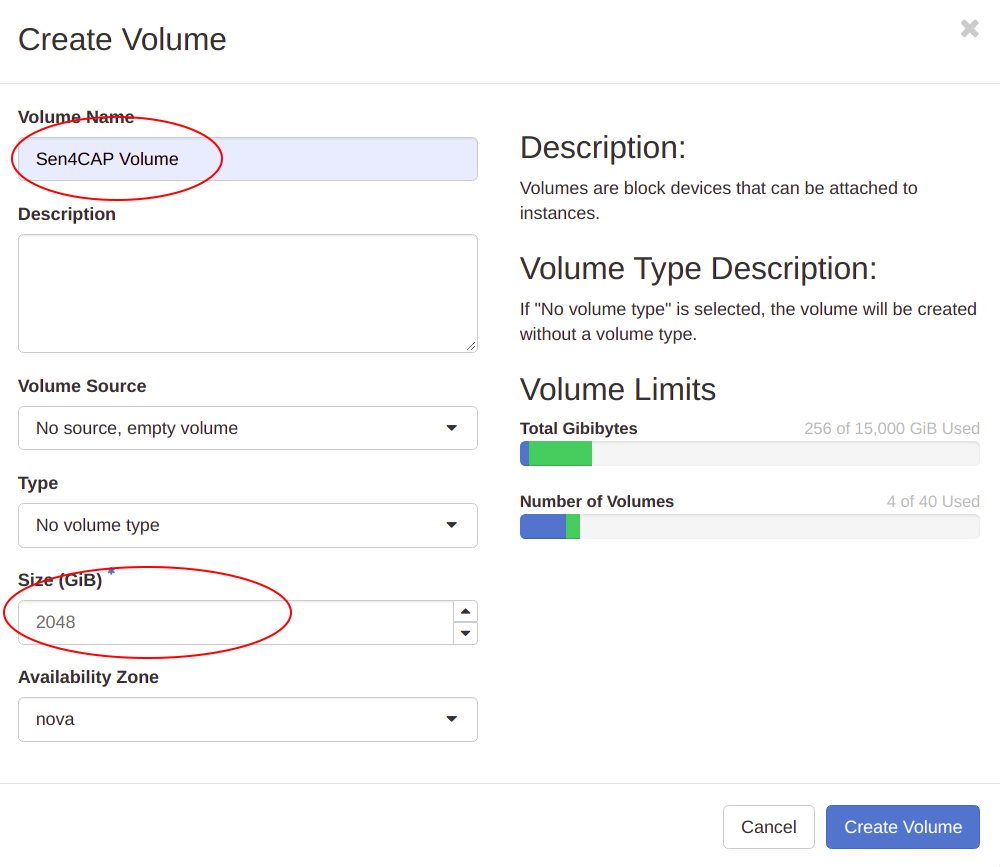 When the new volume is created navigate to Project → Compute → Instances and attach the new volume.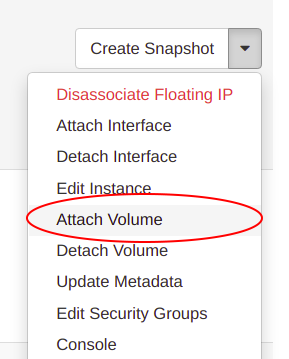 Then select the newly created volume from the menu:

Check visibility of the new volume
Now everything is ready for the instance to mount additional space for Sen4CAP applications. Run lsblk command to check whether the new volume is available within the system.
[eouser@sen4cap ~]$ lsblk
NAME   MAJ:MIN RM  SIZE RO TYPE MOUNTPOINT
sda      8:0    0  128G  0 disk
└─sda1   8:1    0  128G  0 part /
sdb      8:16   0    5T  0 disk

We see that the new volume is visible in the system as sdb.
Create a new partition
Create a new partition with mkfs. The following command will format the new volume with all available space there.
[eouser@sen4cap ~]$ sudo mkfs.ext4 /dev/sdb

Here is the entire output of that command; note that you will have to confirm that you want to proceed with the creation of new partition.
[eouser@sen4cap ~]$ sudo mkfs.ext4 /dev/sdb
mke2fs 1.42.9 (28-Dec-2013)
/dev/sdb is entire device, not just one partition!
Proceed anyway? (y,n) y
Discarding device blocks: done
Filesystem label=
OS type: Linux
Block size=4096 (log=2)
Fragment size=4096 (log=2)
Stride=0 blocks, Stripe width=0 blocks
167772160 inodes, 1342177280 blocks
67108864 blocks (5.00%) reserved for the super user
First data block=0
Maximum filesystem blocks=3489660928
40960 block groups
32768 blocks per group, 32768 fragments per group
4096 inodes per group
Superblock backups stored on blocks:
    32768, 98304, 163840, 229376, 294912, 819200, 884736, 1605632, 2654208,
    4096000, 7962624, 11239424, 20480000, 23887872, 71663616, 78675968,
    102400000, 214990848, 512000000, 550731776, 644972544

Allocating group tables: done
Writing inode tables: done
Creating journal (32768 blocks): done
Writing superblocks and filesystem accounting information: done

Create temporary location to move the partition
We now have the volume partition ready. To move Sen4CAP data, you need to mount it to a temporary location. In this example, we will use /disk directory:
sudo mkdir /disk
sudo chmod 777 /disk/
sudo mount /dev/sdb /disk/

Stop Sen4CAP services:
sudo systemctl stop sen2agri-services

Mount the partition
Sen4CAP keeps downloaded data in folder /mnt. Use rsync command to sync all data from /mnt directory to the volume.
sudo rsync -rtva /mnt/ /disk/

When there is a lot of data and rsync would stop, issue the same command again – rsync will continue where it stopped. When finished, compare the sizes of directories to check that rsync ran properly.
[eouser@sen4cap ~]$ du -hs /mnt/
22G /mnt/
[eouser@sen4cap ~]$ du -hs /disk/
22G /disk/

Enter volume into fstab
When volume is ready, we need to add a proper entry in fstab to have it mounted automatically on every reboot. Label your new volume with the following command:
[eouser@sen4cap /]$ sudo e2label /dev/sdb volume1
[eouser@sen4cap /]$ lsblk --fs /dev/sdb
NAME FSTYPE LABEL   UUID                                 MOUNTPOINT
sdb  ext4   volume1 930affa6-8971-47c8-8591-e46e9333c34b

The result of command lsblk –fs /dev/sdb is, in this example, string 930affa6-8971-47c8-8591-e46e9333c34b under UUID header; you will, of course, get something else so use that string to make a change in fstab. First open fstab:
then add the following line, using your own UUID:
UUID=930affa6-8971-47c8-8591-e46e9333c34b    /mnt            ext4    rw,user,exec 0 0

Delete the content of /mnt directory
Warning
Sen4CAP uses /mnt directory to keep its data. There should be two directories only in /mnt directory: archive and upload. If there is anything else in your system, check what is the origin of that data. Linux systems use /mnt directory to mount drives.
Unmount and mount volume back according to fstab entry:
sudo umount -lf /disk && sudo mount -a

Start Sen4CAP services.